In addition to my fabric obsession, I have a major pop culture obsession and fan tendencies. Shocking, I'm sure. One such pop culture obsession is Buffy the Vampire Slayer.
Another obsession of mine is trying new crafts. I've admired the art of cross stitch for years, but never gave it a whirl...until I made a discovery that has since changed my life.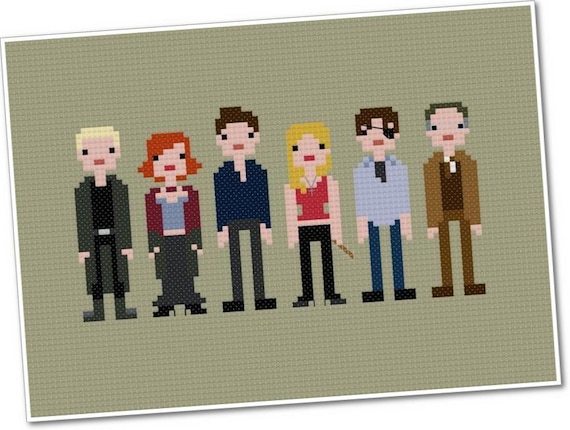 Yes, that would be a Buffy the Vampire Slayer Pixel People cross stitch pattern created by
Wee Little Stitches.
No longer could I ignore the siren song of the thread arts. I picked up a needle, some thread, and started my own slaying...
Replete with Mr. Pointy!
This is a work in progress and so far I've completed Buffy, Angel, Willow, and Spike's coat. Next up are Xander and Giles.
I love
Wee Little Stitches
' patterns and feel pretty confident you will too! The patterns are so fun and celebrate so many great pop culture icons. In addition to Buffy, I've picked up The Breakfast Club, Pretty In Pink, Ferris Bueller's Day Off, Serenity, and others.